We want to help you make more informed decisions. Some links on this page — clearly marked — may take you to a partner website and may result in us earning a referral commission. For more information, see How We Make Money.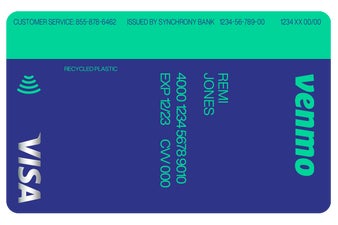 Rewards rate:
Earn up to 3% on your top spend category. Earn up to 2% on your second top spend category. Earn 1% on all other eligible purchases and on Venmo person-to-person transactions.
Intro offer: N/A
Annual fee: $0
Regular APR: 15.24% – 24.24% Variable APR
Recommended credit score: 670-850 (Good to Excellent)
Venmo has a new credit card, and it could be worth a look for people whose phones regularly feature the app on their home screen.
If you already use Venmo to pay friends, split bills, or get paid, then you might've already received email or in-app promotions for the new card. The Venmo Credit Card* first launched in 2020, but opened to all eligible Venmo users in early 2021.
Even if you only use Venmo occasionally, the card's simple rewards structure and easy redemptions can help you maximize cash back where you spend most. Here's what you should know about Venmo's first credit card.
At a Glance
3% cash back in your top spend category, among: transportation, travel, grocery, entertainment, dining & nightlife, bills & utilities, health and beauty, and gas
2% cash back in your second top spend category
1% cash back on all other eligible purchases and on person-to-person transactions
After your first year, 3% and 2% rewards are capped after $10,000 in combined spending
No annual fee
APR of either 15.24%, 21.24%, or 24.24%
Pros
No need to choose categories; earn rewards automatically based on your spending habits

No annual fee

Cash rewards are automatically added to your Venmo account at the end of each statement period
Cons
3% fee to use your card for person-to-person payments in the Venmo app

No intro offer

Rewards limited to cash redemptions
Additional Card Details
The Venmo credit card works in tandem with your existing Venmo profile, and you can apply from the Venmo mobile app. Your Venmo account must be open for at least 30 days and in good standing before you can apply for the card.
You can choose your card color from five different options, and the card itself has your unique Venmo QR code on the front. When your friends scan your QR code, it'll direct them to your Venmo profile to send or receive payments. You can choose to apply Venmo payments that you receive from friends directly to your credit card bill, or to your Venmo account which can later be used to pay your credit card if you want.
The card has tap-to-pay technology for in-store shopping and your card information is stored within the app for easy access when you shop online. There's no foreign transaction fee for purchases you make outside the U.S.
The card is offered through Synchrony Bank, and you may be approved for one of two versions — the Venmo Visa Credit Card or the Venmo Visa Signature — based on your creditworthiness. Venmo Visa cardholders will have access to Visa card benefits like emergency cash and roadside dispatch, while Visa Signature cardholders get expanded benefits like travel and emergency assistance services, access to the Visa luxury hotel collection, rental car discounts, and more.
Should You Get This Card?
The Venmo Credit Card offers the perks of a tiered rewards system without the hassle of choosing or tracking rewards categories. You don't have to consciously spend in certain categories to reap the maximum benefits of this card, because the card tailors itself to your spending habits.
In your first year, there's no maximum on 3% and 2% cash back rewards. Every year following, you'll only earn 3% and 2% cash back on up to $10,000 in purchases in eligible categories. Any spending beyond that earns a standard 1% cash rewards. After each billing cycle, your purchases will be automatically reviewed and your rewards assigned based on where you spent most.
But because your account management is mobile-first (within the Venmo app) and the rewards program is centered on your Venmo balance, this card is best for people who use Venmo at least semi-regularly and are comfortable with managing their card account primarily on their phone.
Your rewards will go directly to your Venmo app, and can be either used to pay off your credit card directly, or transferred out of your account (with your existing Venmo account balance). If you plan to transfer the funds out of your account, it will be subject to Venmo's normal transfer period (up to three business days for traditional transfer, or instant transfer for a fee).
How to Use the Venmo Credit Card
Maximizing your rewards with this card is simple: just use it for your regular purchases, and your rewards are calculated for you and added to your account at the end of each billing cycle.
Categories are based on merchant category codes, so the specific purchases that count toward categories can vary, but here are some of the things included in the various spend categories:
Dining and nightlife: Restaurants, take-out, and delivery
Travel: Airlines, hotels, and resorts
Bills and utilities: Telecommunications, internet providers, subscription products or services, electric, gas, and other utilities
Health and beauty: Drugstore purchases, cosmetic stores, sports and recreation facilities that require a membership
Grocery: grocery stores, wholesale clubs, convenience stores, bakeries, delis
Gas: gas stations
Transportation: rental cars, taxis, rideshares, buses, trains, tolls, parking meters, parking garages
Entertainment: movie theaters, theater and concert tickets, video rental and game stores, books, newsstands, amusement parks, music stores, toy and hobby stores
There's no welcome bonus to work toward, but you can take advantage of the unlimited rewards over your first year. After that, bonus category rewards are capped after $10,000 in annual spending.
If you already have a card that earns rewards in some categories, you may also want to pick specific eligible categories to focus your spending with this card. For example, if you already earn 4% cash back on dining and entertainment with a Capital One® Savor® Cash Rewards Credit Card, you may opt to use your Venmo card specifically for drugstore purchases and monthly utility bills, to maximize categories where you don't already earn rewards.
As with any credit card, make sure you pay off your credit card balance on time and in full each month to avoid paying interest.
Venmo Credit Card Compared to Other Cards
Intro offer:

N/A

Annual fee:

$0

Regular APR:

15.24% – 24.24% Variable APR

Recommended credit:

670-850 (Good to Excellent)

Learn more

At our partner's secure site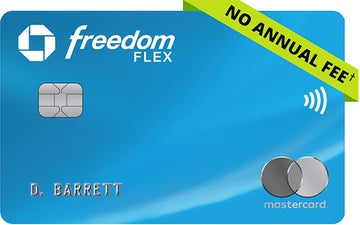 Chase Freedom Flex℠
Intro offer:

$200

Annual fee:

$0

Regular APR:

14.99 – 23.74% Variable

Recommended credit:

670-850 (Good to Excellent)

Learn more

At our partner's secure site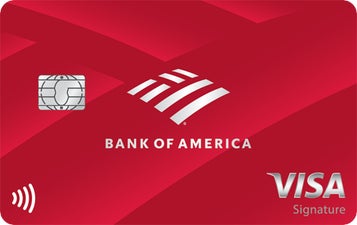 Bank of America® Customized Cash Rewards credit card
Intro offer:

$200

Annual fee:

$0

Regular APR:

13.99% – 23.99% Variable APR on purchases and balance transfers

Recommended credit:

670-850 (Good to Excellent)

Learn more

At our partner's secure site
Bottom Line
EDITORIAL INDEPENDENCE
As with all of our credit card reviews, our analysis is not influenced by any partnerships or advertising relationships.
If you want a set-and-forget card that doesn't require upkeep with categories or rewards, the Venmo Credit Card could make a good choice. You'll earn rewards based on how you spend, all with no annual fee. Just keep in mind the rewards cap after your first year, and make sure you're prepared to manage your account via the Venmo mobile app. And before you apply, compare this card to other cash back credit card options that may better suit your spending.
Frequently Asked Questions
Is this different from the Venmo Debit Card?
Yes, the Venmo Debit Card is a debit card that connects with your Venmo account balance. The Venmo Credit Card works like a traditional credit card with cash back rewards.
What does the design on the Venmo card do?
The design on the front of your credit card is a unique QR code connected to your Venmo profile. Other Venmo users can scan your QR code to pay you or request payment, without having to find your profile through the app. You'll also be able to activate your card through the QR code instead of calling a number.
Do I have to have a Venmo account to get the Venmo credit card?
Yes. You'll need to have a Venmo account for at least 30 days and be in good standing to apply for the Venmo credit card. You'll manage your card entirely through the Venmo app.
*All information about the Venmo Credit Card and Bank of America Customized Cash Rewards credit card has been collected independently by NextAdvisor and has not been reviewed by the issuer.